Facebook Connect 2020 Developer Session: "Come to Your Senses: Synesthesia in VR"
[UPDATE September 21, 2020]
From last week's Facebook Connect: Tetsuya Mizuguchi's session
"Come to Your Senses: Synesthesia in VR"
is now available on demand. Learn why we believe our synesthesia driven design approach works in VR.
---
Please join us at Facebook Connect (formerly Oculus Connect) on September 16!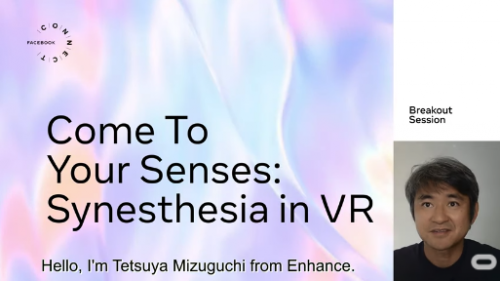 Tetsuya Mizuguchi will be speaking about our unique synesthesia driven design approach in VR, why it's important to us, and how we achieve flow state in Rez Infinite and Tetris Effect in his talk titled "Come to Your Senses: Synesthesia in VR".
Facebook Connect will be streamed at Facebook Reality Labs on September 16, 10AM PT. See you there!
[Session will be presented in Japanese with English subtitles]