Synesthesia X1 at Deezen's Virtual Design Festival (VDF)
*Synesthesia X1 was to be shown at Ventura Centrale during Milan Design Week this month (April 2020). Due to COVID-19 and the suspension of the main furniture fair Salone del Mobile Milano and all related Design Week festivities, we are re-evaluating our options and opportunities for a future showcase. 
---
Virtual Design Festival (VDF) is the world's first online design festival, taking place from 15 April to 30 June 2020. Ventura Projects are exhibitions curated by Utrecht- and Milan-based Organisation in Design that cover the latest developments in contemporary design. As part of VDF, Ventura Projects is presenting the work of 88 international designers, academies and brands. See work from all the VDF x Ventura Projects participants at dezeen.com/vdf/ventura-projects.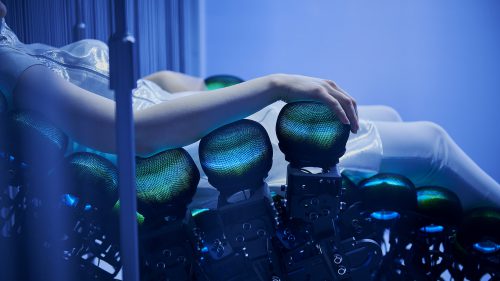 (photo credit: Atsuhiro Shirahata)
https://www.dezeen.com/2020/04/29/synesthesia-lab-x1-ventura-projects-vdf/
Synesthesia Lab introduces Synesthesia X1, a multi-sensory experience device, as part of VDF's collaboration with Ventura Projects.
Exhibitor: Synesthesia Lab
Project title: Synesthesia X1
Synesthesia Lab is collaborative studio that develops experiential technologies.
Its latest project is a "multisensory musical experience" called Synesthesia X1, which it is launching as part of VDF's collaboration with Ventura Projects. It has been developed with Enhance, Rhizomatiks, and musician Evala.
Synesthesia X1 is a chair-like device composed of two speakers and 44 vibrating actuators that are topped by luminous pads.
Encased within a giant cube, it invites people to sit down alone and experience the sensation of being "wrapped in a world of sounds, lights, and vibrations".