This is a fictitious product announcement that we put together for April Fools' day in 2022, the following is not real.
===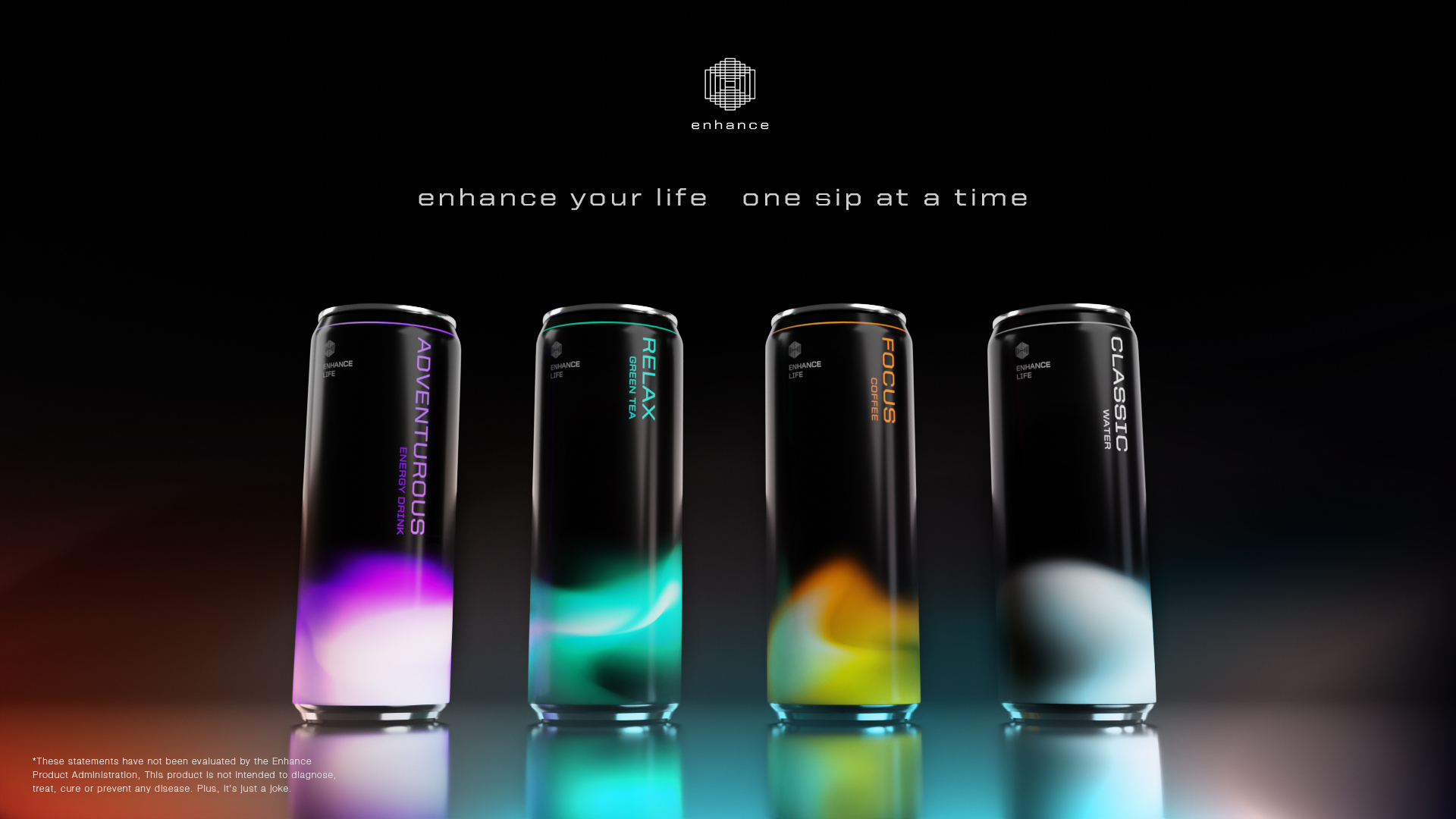 Introducing the Enhance Life Drink Collection
Premium Beverages That Evoke Synesthesia
TOKYO, JAPAN — April 1, 2022 — Enhance announced today that they're entering the beverage space with a new line of premium drinks under the Enhance Life brand. The Enhance Life drink collection comes in elegant 250ml cans and includes the Adventurous, Relax, Focus, and Classic flavors that make you feel synesthesia with every sip you take. Read about each flavor below.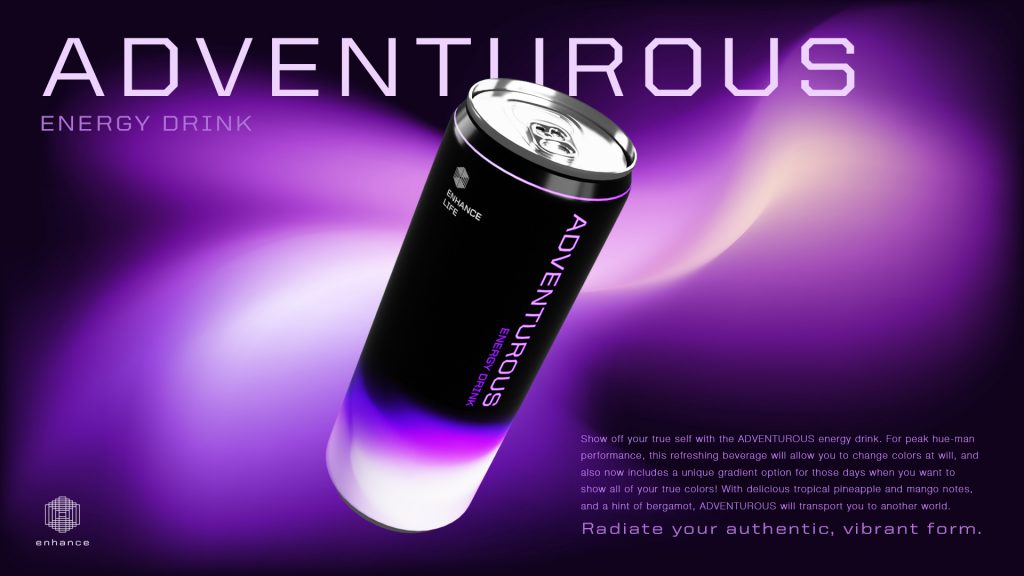 ADVENTUROUS Energy Drink
Radiate your authentic, vibrant form
Show off your true self with the ADVENTUROUS energy drink. For peak hue-man performance, this refreshing beverage will allow you to change colors at will, and also now includes a unique gradient option for those days when you want to show all of your true colors! With delicious tropical pineapple and mango notes, and a hint of bergamot, ADVENTUROUS will transport you to another world.
RELAX Green Tea
No worries, no stress, only zen
Experience the most comfortable, relaxed feeling you've ever felt, then multiply it by 10. That is how our sophisticated, refreshing RELAX tea will make you feel as soon as you take the first sip. With soothing chamomile, lemon balm, and a hint of passionflower, this green tea will change what the word "zen" means to you! Open a can, take a sip, and feel all of your worries from the day melt away.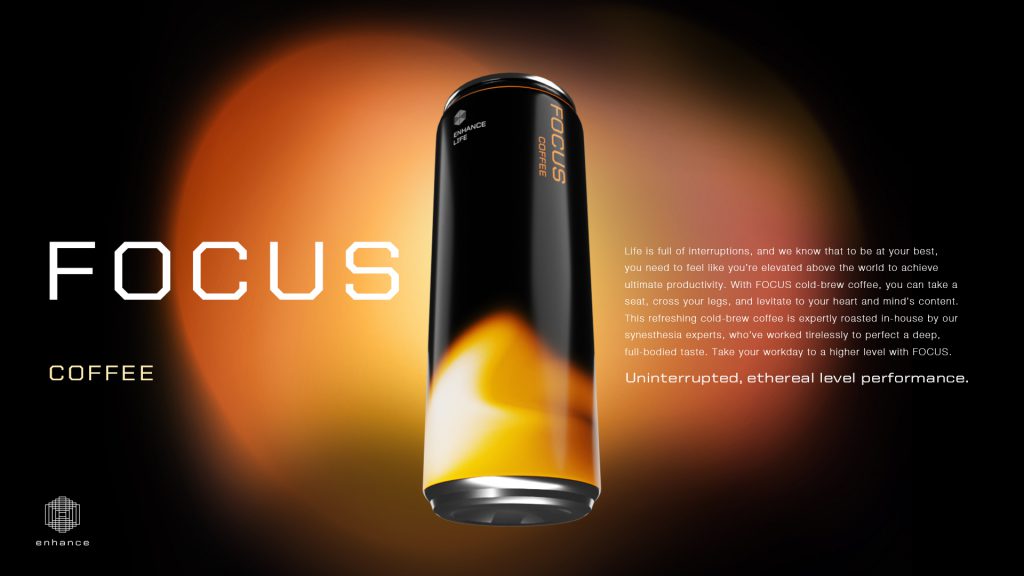 FOCUS Cold Brew Coffee
Uninterrupted, ethereal level performance
Life is full of interruptions, and we know that to be at your best, you need to feel like you're elevated above the world to achieve ultimate productivity. With FOCUS cold-brew coffee, you can take a seat, cross your legs, and levitate to your heart and mind's content. This refreshing cold-brew coffee is expertly roasted in-house by our synesthesia experts, who've worked tirelessly to perfect a deep, full-bodied taste. Take your workday to a higher level with FOCUS.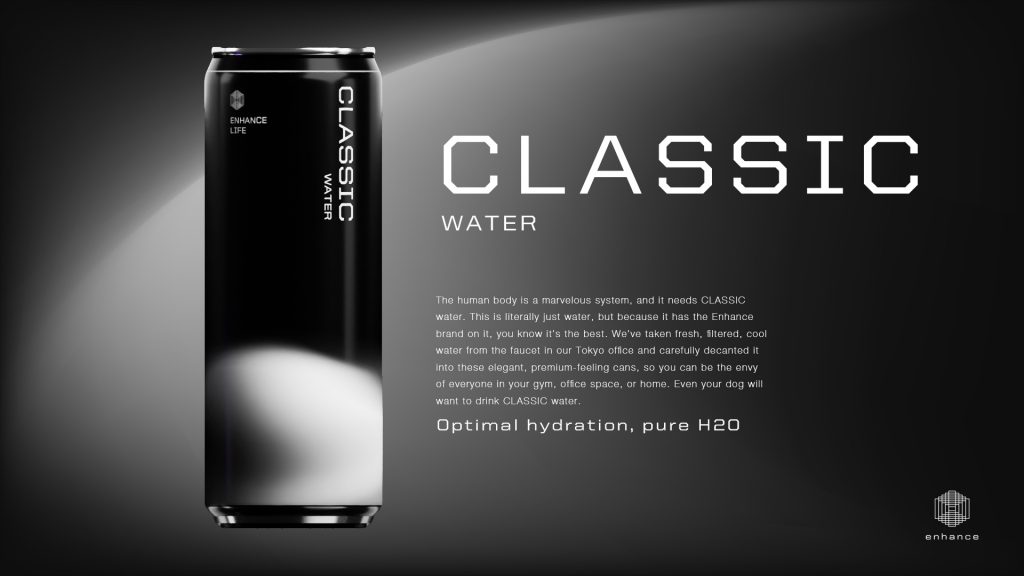 CLASSIC Water
Optimal hydration, pure H2O
The human body is a marvelous system, and it needs CLASSIC water. This is literally just water, but because it has the Enhance brand on it, you know it's the best. We've taken fresh, filtered, cool water from the faucet in our Tokyo office and carefully decanted it into these elegant, premium-feeling cans, so you can be the envy of everyone in your gym, office space, or home. Even your dog will want to drink CLASSIC water.
More Information
Official Website: https://enhance-experience.com
Discord: https://discord.gg/enhance
Twitter: https://twitter.com/enhance_exp